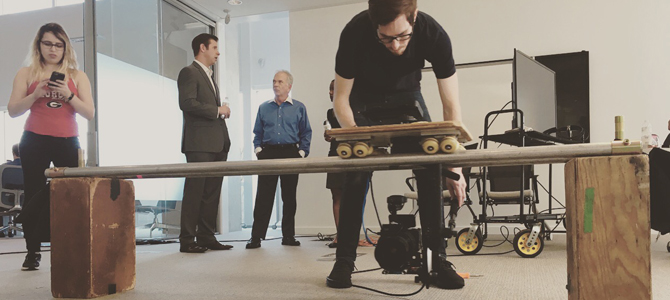 April 28, 2011
5 Tips On Choosing a Video Production Company
Congratulations if you've decided that you NEED a video and/or a video marketing strategy in Atlanta (or abroad) for your business. You certainly have made one smart decision…time to make another smart decision…what Atlanta video production company do you choose to produce your video content? There are so many different factors to look at that it can be a little overwhelming. So to ease the stress a bit we've come up with 5 tips for choosing your Atlanta video production company as your team. These five tips are:
1) Check Their Work for Professionalism
2) Research Their Experience Level
3) Ask for References
4) Are They Insured?
5) Cheapest Isn't Always Best
1. Check Their Work for Professionalism
The first tip is to check out a company's website which should have their demo reel and a portfolio. All Atlanta video production companies should have some form of a demo reel and portfolio. A demo reel is a montage video, if you will, of a compilation of projects that the company has worked on over a given period of time – typically a year or two. A portfolio is a selection of video samples of projects that they have worked on in the last year or two as well. This will give you a great idea of the type of videos that the company works on, their style, the professionalism, what they have done for their clients and a whole range of other information.
Does their work impress you? If it doesn't, move on.
If they don't have a demo reel or portfolio, you should probably keep looking. How can you evaluate someone's work if there is nothing to evaluate? However, if the work is professional and intrigues, impresses, and excites you…continue to tip number 2.
2. Research Their Experience Level
Video production is a very technical and specific skill-set. It takes a lot of time to produce video at a professional level. The company's demo reel and portfolio should give you a pretty good idea at whether they are professional or not. You are a pretty good judge about that…you watch TV and video online. You know the difference. What to do next?
Check out their website and read about their history – how long have they been around, what have they done, what do they do best and how much experience do they have? It should say on the website. If it doesn't inquire about it. If it does, verify it. You'd be shocked about how much misinformation is floating out there on websites exaggerating about their experience.
I've personally seen demo reels, videos and company descriptions that were not produced by the company or drastically over-exaggerated. It's kind of crazy.
If there is a particular project that you like, ask about it. What was their involvement? Did they write, prepare, light, shoot, edit, and design it? Or were they hired hands wrapping cables and moving camera equipment around having really no direct control in the project. We've caught a few freelancers trying to pass off projects of their own that really weren't theirs. If a company says they've been in the business for x- amount of years, they should have a good list of clients, demo reel and video samples that correspond with that time. Finally, make sure that they have experience producing the type of video that you are looking for. If you are looking for a solid corporate overview, make sure they have done them before. There is a big difference between a corporate overview and a music video or even event video. Your video content is a big investment of your time and financially. Make sure you place the project in trusted hands.
3. Ask for References
Any professional organization will have a list of references that they can give you upon request. This is a great way to ask their clients how they performed. Ask if they were happy, how did the filming process go, we're they easy to work with? Any negative feedback? If no references can be given, that might not be a good sign. In addition to asking for references, utilize social media to learn more about the company.
LinkedIn is a wonderful resource that will have some great information about the individuals in the company or the company itself. Facebook is another great resource. And finally, if you really want to get down to the nitty gritty, contact the clients who are not listed as a references. It's worth a shot. You might find some very valuable information – good or bad.
4. Are They Insured?
It's very likely that if you work with an Atlanta video production company to produce your video content that they will be filming at your office(s), clients' facilities or 3rd party locations at some point in the process. A professional filming process typically involves a lot of equipment – cameras, lights, carts, camera cranes, dollies, heavy stands, cables sprawled out on the floor etc. What happens in the unfortunate event that a piece of equipment goes through a window…at your client's office?
Accidents can and do happen. This isn't the time to or place to turn to the production company and ask them if they have the proper insurance.
This is often an overlooked area. In the last four years, we have been asked about insurance a grand total of two times. Luckily we haven't file any insurance claims, but it's good to know that its there in case of an accident. If they aren't covered, you open yourself up to unnecessary risk. Make sure you ask for proof of general liability insurance. Think twice if they don't have it.
Tip 5: Cheapest Isn't Always Best
Price is always top priority, for the most part. Lowest price, though, isn't necessarily the best value or option. Higher experience, professionalism, and proper licensing and insurance can drive up costs – but it drives up value as well. As the saying goes, you get what you pay for.
If you are looking for a professional and creative video that clearly drives a message – then the cheapest probably won't do.
A cheap, less-professional route will net you a less-than-desirable image of your business! Go with a company that can truly capture your vision. When it comes to your business, brand, products, and services, you can't settle for bottom of the barrel. Don't stand for anything less than professional. It may cost more dollars up front, but in the long run you'll get more out of it.
Optimum Productions is an Atlanta video production company that started in 2007 working with small businesses to Fortune 100 corporations. With a diverse creative portfolio, we produce professional videos with competitive pricing. We have a list of references ready at your request. And insurance….we're covered with a general liability policy. When you're ready, we're here.